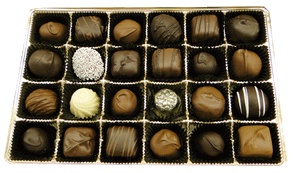 Chocolate Assortment (Make Your Own)
Choose up to 6 of your favorite pieces to make the perfect chocolate assortment for yourself or to give as a gift.
Please note that some pieces are only available in a specific chocolate type or box size. If your selection is not available as selected, we will substitute the available chocolate for that particular piece.
All pieces are divided as equally as possible throughout the box to create the best presentation based on your selection.
---
We Also Recommend
---